Do you also dream about spotting tigers, elephants and rhinoceroses in the wild?  Start planning your trip to Bardia National Park now with our 10 tips to make the most  of your visit. 
Since 2014 we have been given our guests memorable experiences in and around Bardia National Park which is situated in West Nepal and famous for being the best place in Nepal to spot the Bengal Tiger. We also call it 'Tigerland'. But the park is also the habitat for the wild Asian elephant, the Greater one-horned rhinoceros and many species of birds. Outside the park you can explore the countryside inhabited by the indigenous Dangaura Tharu people, who have their own unique language, customs and traditions.

1.Take your time and stay at least 4 days / 3 nights.
If you really want to enjoy Bardia National Park, don't be in too much of a rush. We advise you to stay at least 4 to 5 days so that you can discover the park in different ways. That will increase your chances to see the wildlife. It also gives you time to explore the countryside and learn more about the Tharu culture.
2.Visit the park between mid-September till mid-December or mid-Februari till end of May.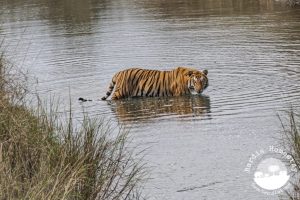 During these months, day temperatures vary between 25 up till 37 degrees and animals will move to the river to drink which gives you good chances to spot them. The best moments to spot the tiger is in November and in March and April.  Bird lovers might want to come in February when there are many migratory birds.    From mid-December onwards till the end of January it can be more chilly and sometimes we have foggy weather. But campfire will be ready to warm you up in the evening!  The monsoon which starts in June and lasts till the half of September brings hot and sticky days and rain. But the rain doesn't last all day long and after a rain shower temperature drops and the sky is is blue with white clouds. The forest and the surrounding landscape is green and lush. The rising river levels can make access to the park difficult. But rafting is always possible and you might even spot the rare Gangetic river dolphin.
3. Do not miss a  jungle walk, jeep safari, an adventurous camping trip or treehouse stay.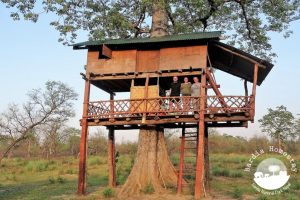 During a half or full day jungle walk, you discover the grassland and the riverine forest of the southwestern part of the park. During a jeep safari you will go to the river viewpoints and the Sal forest in the Midwest and Northwest of the park. A variety of landscapes is waiting there for you! Experience the thrill of camping in the jungle and listen to a roaring tiger in the distance. A safe way of experiencing the jungle by night is sleeping in a treehouse. The birds and monkeys will wake you up and you will enjoy a great sunrise and sunset.
4. Meet the Tharu people during a countryside tour or cooking workshop.
Walking, cycling, a motorbike or jeep tour are great ways of exploring the countryside and to meet the local Tharu people. Another way of learning more about the local culture is to join a Tharu cooking workshop at a local home or to join a Nepalese festival. There are many festivals and agricultural activities during the year and you are welcome to join.
5. Wear casual light clothes with natural colours.
If you go into the jungle wear clothes that help you to blend into the environment so that you do not distract the animals. Wear neutral colours, like brown, green, grey or black and avoid bright colours like white, red, pink and yellow. Because it is mostly hot weather, we advise you to wear light cotton clothes and due to spiky bushes, tall grass and bright sunshine, we recommend wearing long pants, a t-shirt or a cotton blouse. And do put sun cream and a hat or cap in your luggage. To respect the local culture, we advise woman not to wear any shorts or sleeveless tops when they go for a walk on the countryside. We advise man not to go bare-chested
6. Take care of your health.
Before you go traveling to Nepal it is best to seek medical advice in your own country. You might need some vaccinations like diphtheria, tetanus, hepatitis A and hepatitis B. Malaria sometimes appears in Bardia, particularly during the monsoon. We advise you to bring mosquito repellent or buy the local brand 'Odomos'!
7. Do not forget your devices like binocular, camera, power bank or bird book.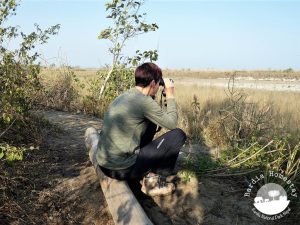 Most of the time you will spot the animals and birds from a far distance. Our guides bring good binoculars. If you have your own lightweight binoculars (for example 8 x 42) do not forget to bring them. A camera with a good telephoto lens is recommended to keep your wildlife spotting memories forever. For bird lovers, the book 'Birds of Nepal' should not be missing in your suitcase. We do not always have 24 hours power, so make sure your power bank is charged and bring a flash light.
8.Travel environmental and sustainable friendly.
We believe sustainable tourism in and around Bardia National Park is very important for a good balance between local life and culture, wildlife conservation and tourism. It means we request you the following:
Reduce the use of plastic bottles and plastic bags. For example bring your own refillable water bottle or thermos flask and use a shampoo bar and a soap bar instead of a bottles 
Do not accept plastic bags from a shop but try to use you own cotton bag.
Pick up any plastic you might find inside the national park and bring it back our homestay.
Do not take any pictures of people without asking.
It might be tempting to give any chocolate or other gifts to children on the street who ask for it. But you don't want them to become baggers, do you? Ask us for other ways how to support the school
9. Bring home an original Tharu souvenir and  empower the local women.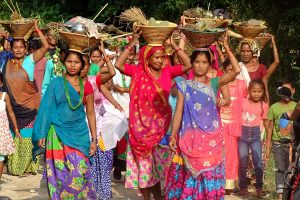 The Tharu women are very talented in making baskets which they carry on their head to transport goods. The baskets are made of bamboo or grass. Most baskets have natural colours and are decorated with flowers or Tharu symbols like peacocks or deer. We help the women sell their various products like penholders, flower pots, pan coaster or bowls. By bringing home this original souvenir you support the financial empowerment of the women in our village.
10. Go of the beaten track and visit the other national parks in West Nepal.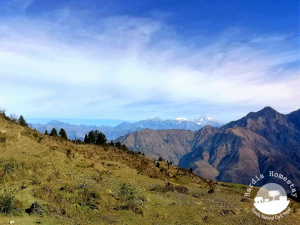 Our home is a good base camp to discover western Nepal. You can combine a visit to Bardia National Park with a visit to Khaptad, Rara, and Shuklaphanta National Park. Or explore the beautiful Karnali – Bheri river area. Why go to touristic places in Nepal if you can discover the unbeaten track?  Get inspired by our 2-3 weeks itineraries. (Link to our itineraries)
For more information check out our website Bardia Homestay and the page Travel Checklist Bardia and Nepal. Or contact us on:
info@bardiahomestay.com
WhatsApp: Bardia Homestay Nepal +977-9815544433
Hope to welcome you soon in West Nepal!
M
emorable experiences since 2014 
Budhi Darlami and Sonja Rusticus 
Thakurdwara 9 Shivapur
Bardia National Park, Bardiya, Nepal